Fleetwood is one of Australia's leading providers of modular housing, delivering boutique prefabricated modular houses for our Western Australian customers for several years, providing innovative and flexible designs to cater to individual needs as well as providing volume builds across Australia. Planning, designing and constructing a new housing project can be complicated and costly, however the benefits of prefabricated modular construction can assist in streamlining these processes significantly. Here's what you need to know about working with Fleetwood and how our advanced prefabricated modular construction processes can benefit you.
Full Turn-Key Prefabricated Modular Housing Solutions
At Fleetwood, we work with our customers throughout all stages of the project. From the initial design phase all the way through to the final installation, you can be assured that your prefabricated modular housing project is in good hands.
Fleetwood provides our customers with a range of housing designs to choose from along with the ability to create customised modular designs for your housing needs.
Whether you are looking to create small, large, bespoke, sustainable and or ecofriendly residential homes for either a lifestyle village, aged care village or large-scale property development our team can develop the perfect solution for you. View our full range of modular housing project case studies to find out more.
Benefits of Prefabricated Modular Housing with Fleetwood Building Solutions
Many of our customers who are new to the modular housing world wonder what makes this approach so much more attractive than traditional construction methods. With prefabricated modular housing, the majority of the construction takes place offsite away from the final destination of your home. The benefits of this see's the prefabricated modular components for each home built concurrently as we prepare your site for delivery.
Services including demolishing of any existing structures, civil works, services connections, plumbing, power and more are all taken care of whilst your home is built. The benefits of this include minimising the overall build timeline with the ability to maintain the highest of quality control measures.
In addition to saving time, prefabricated modular housing can also save you or your organisation a lot of money. Hauling construction materials to and from work sites can be quite costly, especially for houses in remote and rural areas of Australia. With prefabricated modular housing, all the home construction is done off-site at our specialised facilities across Australia, located strategically to minimise transport time and costs.
Finally, prefabricated modular construction is better for our environment. Fleetwood has always been committed to reducing our environmental footprint. We utilise the best quality sustainable building materials and our state-of-the-art factories and build methodology allows us to greatly reduce waste by recycling materials and effectively manage inventory levels. Our relationships with key suppliers ensures all materials arrive ready for installation, minimising waste and maximising time efficiencies. With fewer site disturbances and tighter construction management, off-site modular construction is a greener solution.
Contact Fleetwood Building Solutions Today
Before you begin your next housing construction project, reach out to the prefabricated modular housing experts here at Fleetwood. Our friendly and professional team are always happy to answer your questions to help you make an informed decision about using our services. We'll work closely with you every step of the way to ensure your housing project turns out even better than you had hoped. Contact us today on 1300 123 272 or fill out our contact form to discuss your next housing development project.
Modular Housing Project Case Studies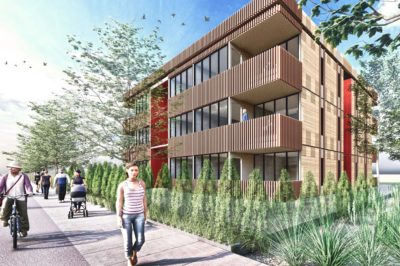 Modular Housing Panel
Gateway Lifestyle Housing
Osprey Service Workers Village
RACV Cobram