Winners announced for 2023 Fleetwood Challenge Cup
The power and versatility of modular and prefabricated building has again been put on display with the crowning of the winners of the 2023 Fleetwood Challenge Cup. 
Proudly developed by modular building specialist Fleetwood Australia and peak body prefabAUS, the Challenge Cup is a national design competition that provides University teams across Australia with the opportunity to demonstrate the value and versatility of prefabricated building to find innovative solutions unmatched by traditional construction. 
Teams from both sides of the country filled the finalist positions, with Hexad Studios from Monash University capturing attention with a beehive-inspired design for Malvern East in Victoria, and the Quokka Quarters and The Baleen entries from Curtin University both putting forward bold plans for redevelopment of a tourist facility on Western Australia's Rottnest Island. 
Quokka Quarters was last night announced as the winner of the $7000 first prize at the prefabAUS national conference, Offsite 2023 in Melbourne, with The Baleen placing second and scoring a $3500 prize. Hexad Studio picked up $2500 for third place and was also recognised with the People's Choice Award, while The Baleen received an additional $2000 as the winner of the Fleetwood Industry Award. 
Fleetwood Australia CEO Bruce Nicholson congratulated the finalists on their outstanding work. 
"Modular building and prefabrication have huge roles to play in tackling the world's housing challenges and the calibre of entries for this year's Challenge Cup shows the even brighter future that lies ahead for our industry.  
"All of the finalists received strong praise from the judges, which is reflective of the extremely high standard of entries for the 2023 Fleetwood Challenge Cup," Mr Nicholson said. 
"The saying goes that there can only be one winner, but I think all of this year's entrants – and by extension the future of built design in Australia – can take enormous benefit from this competition. 
"In the case of our first prize winner Quokka Quarters, their attention to detail in designing a sustainable and community-orientated future solution for the Pedal&Flippers  bike hire facility was absolutely top notch. Their design is modern and aesthetically pleasing without disrupting native flora and fauna, and also considers Aboriginal perspectives and the island's cultural history. 
"It's fantastic to see the versatility, adaptability and sustainability of modular building showcased in such a fashion." 
prefabAUS Executive Chair Damien Crough said the judging panel had been greatly impressed by the quality of all designs but particularly the finalists. 
"There's a real sense of innovation and inspiration that shines through in all entries," Mr Crough said. 
"In the case of our runner-up, The Baleen, there is a really interesting and intriguing focus on creating a design that can be shared via creative commons and have an impact anywhere in the world. 
"Meanwhile, Hexad Studio has come up with a striking honeycomb design that points back to nature and has the potential to make modular living even more adaptable. 
"On behalf of both Fleetwood Australia and prefabAUS, I'd like to thank everyone who was involved in the 2023 Challenge Cup: the universities who support the event, our very talented judges who donate their time and, of course, the wonderful students all over Australia who are the future of our industry. 
"I can't wait for the 2024 event!" 
For more details of the 2023 Fleetwood Challenge Cup entries visit: https://www.fleetwoodchallengecup.com.au/2023-submissions/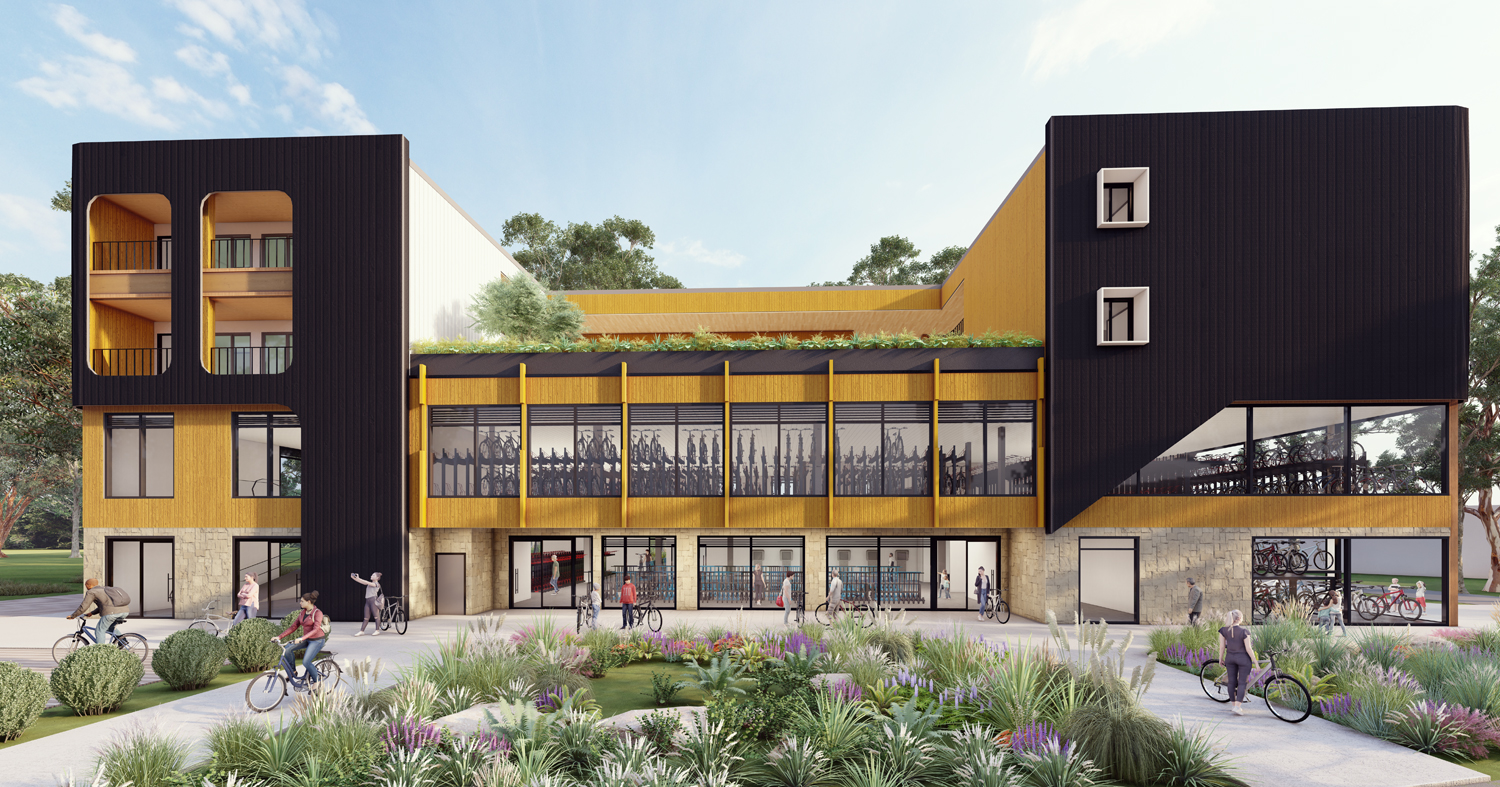 Quokka Quarters (1st place)
The proposed Quokka Quarters redevelopment of Pedal & Flipper retail complex on Rottnest Island seeks to meet growing demand for sustainable, community-orientated developments, with two floors of residential units sitting above a two-floor hire facility that aims to promote bike culture and other tourist and visitor-friendly activities. The design integrates Indigenous perspectives acknowledging the cultural history of the land, while also focusing on sustainable materials that have a minimal environmental footprint and contribute towards net zero aspirations.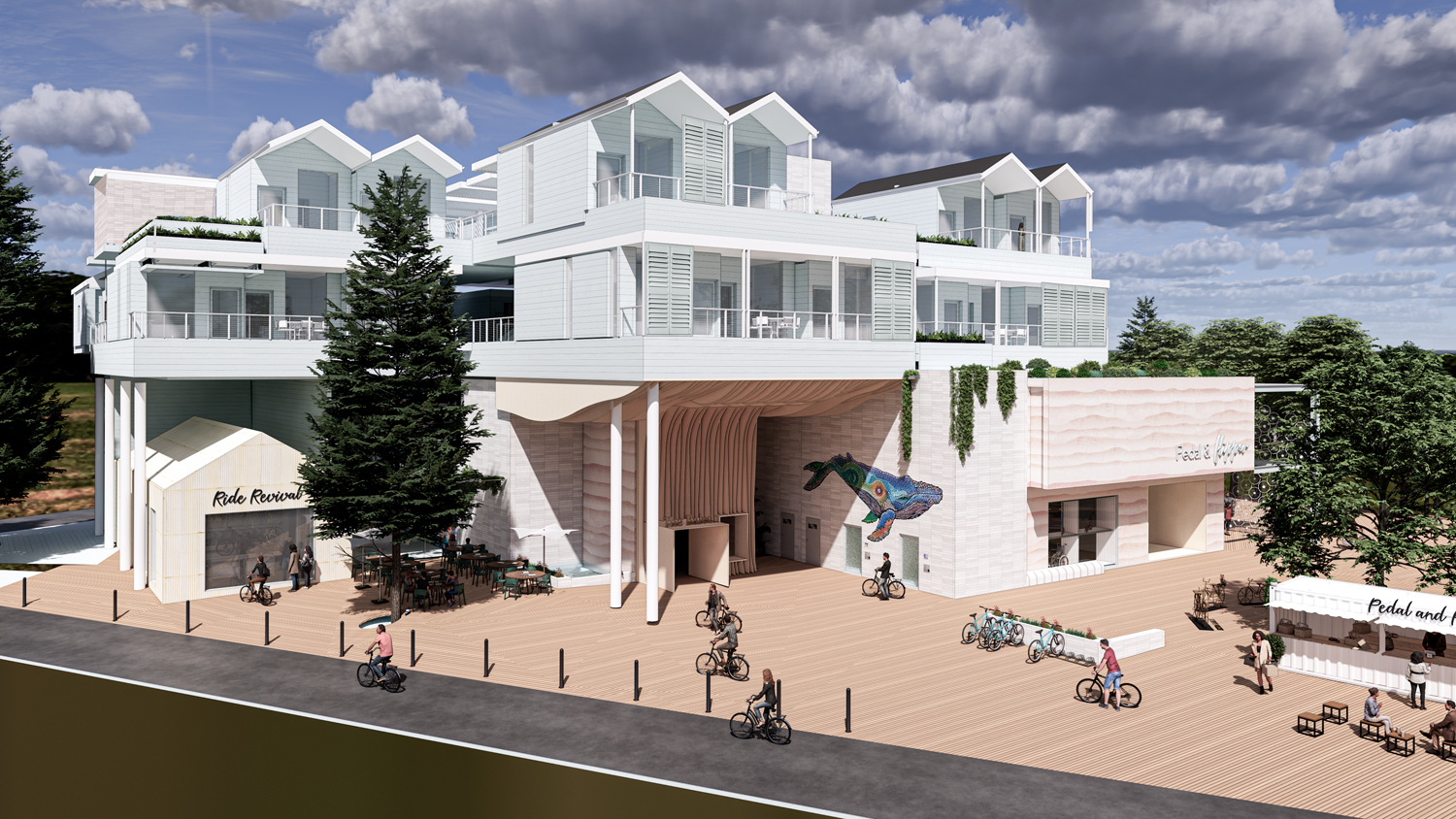 The Baleen (2nd place)
The Baleen project imagines not just holiday accommodation apartments on Wadjemup (Rottnest Island) using open-source architecture that is helping to drive a positive global impact. The modular construction system can be shared, downloaded and assembled anywhere in the world via creative commons, helping developing countries progress net zero aspirations. Modules are designed to have life beyond their initial location: easily reconfigured, disassembled and reimagined, put on a shipping container to assist with disaster relief or even flat-packed and kept in storage until needed.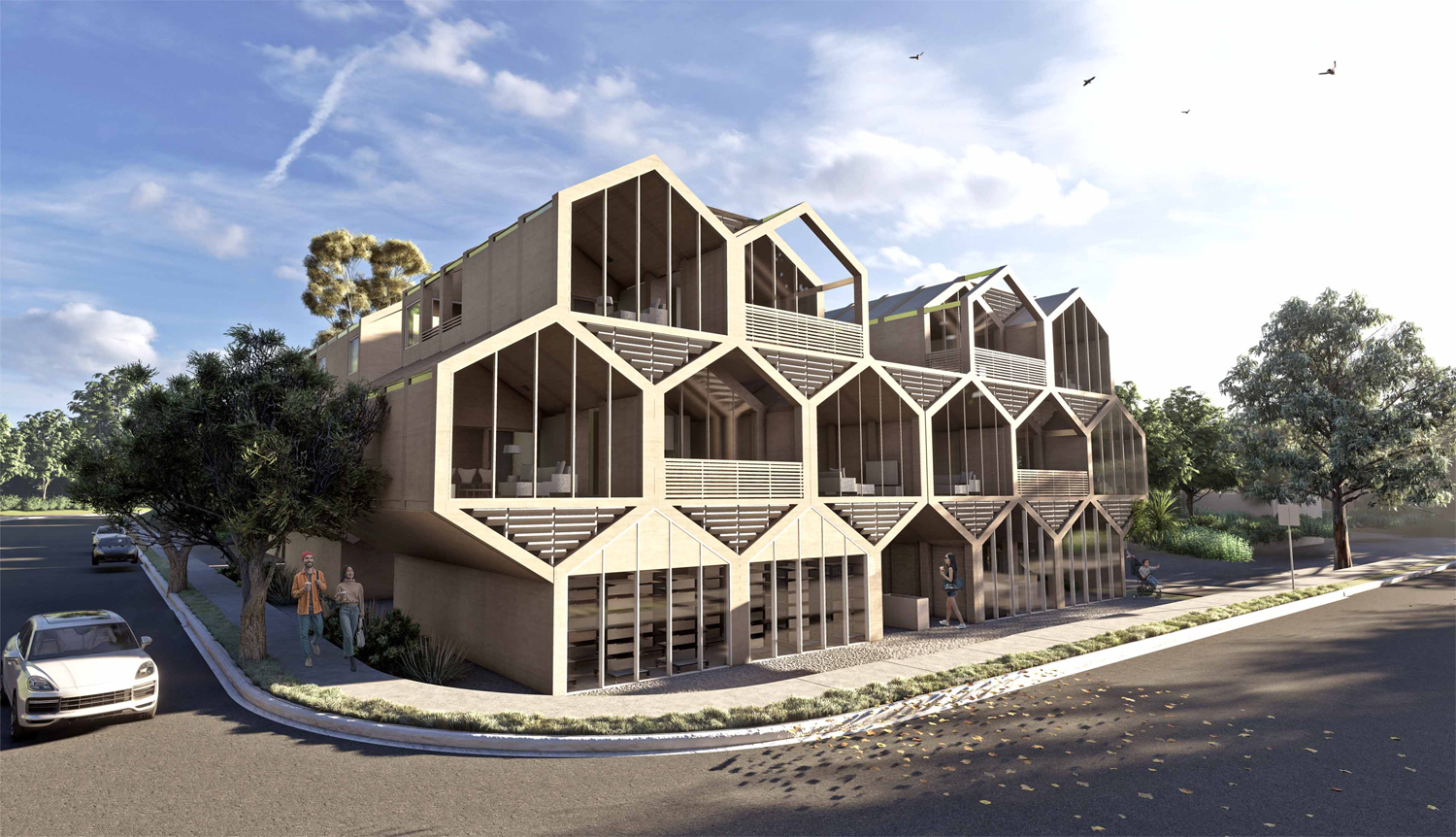 Hexad Studio (3rd place)
Using inspiration from the honeycomb structure in beehives, the Hexa-Cell Residence on Waverley Road in Malvern East in Melbourne showcases innovative, cost-effective, and sustainable architecture. Comprising one, two, and three-bedroom apartments, Hexa-Cell also hosts shared facilities on the ground floor, fostering community among residents and local inhabitants. Notably, the modules are incredibly adaptable; residents can customise their living spaces, adding or removing modules as required.