Fleetwood Australia honoured at 2023 Modular Building Institute Awards with prestigious accolade
Fleetwood Australia's commitment to excellence has again been celebrated on the international stage, with two First Place wins and two Honourable Mentions at the 2023 Modular Building Institute (MBI) Awards of Distinction.
The MBI Awards of Distinction – announced as part of the World of Modular trade show and exhibition in Las Vegas – are widely regarded to be the highest honours in the global modular industry.
Fleetwood Australia was judged a winner in the Permanent Modular Education over 10,000 square feet category for the Mackenzie State Special School project and the Permanent Special Application over 10,000 square feet category for the Sydney International Speedway project.
The company was also recognised with honourable mentions for the Albert Park Pavilion project (Permanent Modular Assembly) and the Corrections Victoria Prison Infill Expansion project (Permanent Correctional).
The 2023 results follow Fleetwood winning 10 awards at last year's MBI Awards of Distinction, the most of any entrant.
Chief Executive Officer and Managing Director, Bruce Nicholson said the international recognition was a proud moment for the entire Fleetwood Australia team.
"At Fleetwood we are committed to designing great and innovative housing and building solutions that meet Australia's needs," Mr Nicholson said.
"To be recognised on the global stage like this is huge thrill for the thousands of Fleetwood employees who live that commitment each and every day.
"Given some of the challenges experienced in the Australian building industry, modular offers solutions that are much faster to completion than traditional builds, while also being extremely liveable and flexible and having important environmental benefits.
"The Awards of Distinction helps showcase Australia's modular sector to a wider audience and we're very grateful to the MBI and its judges for endorsing our work once again.
"We're very proud of each of the nine projects we entered for this year's MBI Awards.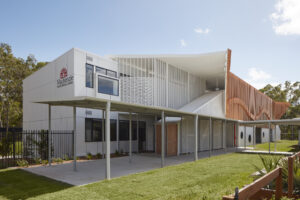 1st Place: Permanent Modular Education over 10,000 square feet – Mackenzie State Special School
The Mackenzie State Special School project in Brisbane reflects the high-quality architecture that can be delivered through modular building and also the flexibility the method offers to meet a diverse range of requirements. The Fleetwood design team pushed boundaries to meet client needs, turning 43 modules into eight general learning areas, eight offices, two life skills areas, a therapy and sensory room and two outside learning areas that can cater for more than 160 students at a time. The design also includes sensory and therapy rooms, wide corridors, specialised bathrooms, hoist system, an elevator for students with mobility issues, accessways, lighting and acoustic panels, and timber-effect screening that perfectly integrates with the leafy surrounds. By using a Design for Manufacture and Assembly approach, the Fleetwood team completed the project by the deadline of late January 2022, ensuring it was ready in time for the new school year. Modular construction also minimised disruption for the local koala population.​​​​​​​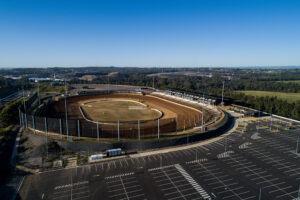 1st Place: Permanent Special Application over 10,000 square feet – Sydney International Speedway
Modular components delivered by Fleetwood completed the world-class NSW International Speedway and demonstrated our ability to provide high-quality, cost-effective solutions despite significant logistical challenges. One of wettest years on record, COVID-19 restrictions, labour shortages and supply delays made for a unique and testing construction environment but Fleetwood overcame this to deliver a product that would not have been possible using traditional construction. The modular components cover a wide range of uses, including corporate boxes, media boxes, amenities, ticket booth, food outlets, communications and plant room components – and all were delivered to high-quality specifications, while meeting accessibility compliance. The corporate boxes are particularly striking, with floor to ceiling windows, and heating and cooling giving an optimal viewing experience and total comfort for spectators.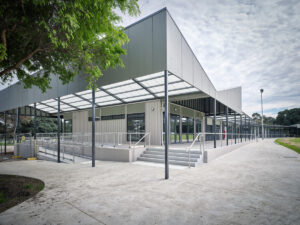 Honourable Mention: Permanent Modular Assembly – Albert Park Pavilion
Fleetwood was engaged by Lloyd Group on behalf of Parks Victoria to deliver a major upgrade of the multipurpose Albert Park Pavilion, a busy sporting hub in Melbourne for more than 40 adult/junior clubs. The project addressed the local community's evolving needs and supported growing female participation in sport. The elegant structural and spatial solutions can adapt to the club's future needs, while Fleetwood's modular design delivered a cost-effective, and fast solution, which would not have been possible using traditional in-situ construction.  Off-site prefabrication and a very short install time ensured site activity was minimised and that extensive disruption was avoided for facility users and local residents. The new pavilion exceeds energy efficiency standards and by optimising natural daylight, there is reduced need for artificial lighting and lower ongoing power consumption. The Fleetwood team used innovative cloud-based solutions during the design process.
Honourable Mention: Permanent Correctional – Corrections Victoria Prison Infill Expansion
The Department of Justice and Community Services in Victoria engaged Fleetwood to design a modular steel cell to precisely match optimum layouts for maximum security single and double prison cells. The award-winning CellPOD modular cell that Fleetwood has delivered into Australia is recognised as best in class. In manufacturing 459 modular cells for use across five Victorian prisons – equivalent to 920 new beds – Fleetwood provided a solution that not only enabled the Department of Justice and Community Services to quickly address a growing problem of overcrowding but did so in a way that ensured strict security could also be maintained. Modular construction reduced on-site disturbance and allowed for tighter quality control and superior strength, while also meeting the high safety standards that will protect the health and wellbeing of inmates. The cost-effective, quickly-delivered solution simply wouldn't have been possible using traditional construction.
We are incredibly proud to be recognised as a market leader in the design, manufacture, supply, and installation of both temporary and permanent modular buildings. With manufacturing operations in five states across Australia, we have the largest manufacturing capacity of any other modular builder in the country.
Having been awarded the Modular Building Institute (MBI) Awards over the past three years is a testament to our commitment to excellence and dedication to providing our customers with the best modular building solutions available.
Thank you to our amazing team, our partners and valued customers for making this achievement possible!