Queensland Academy for Science, Mathematics & Technology
Nine single-storey GLAs with amenities and connecting walkways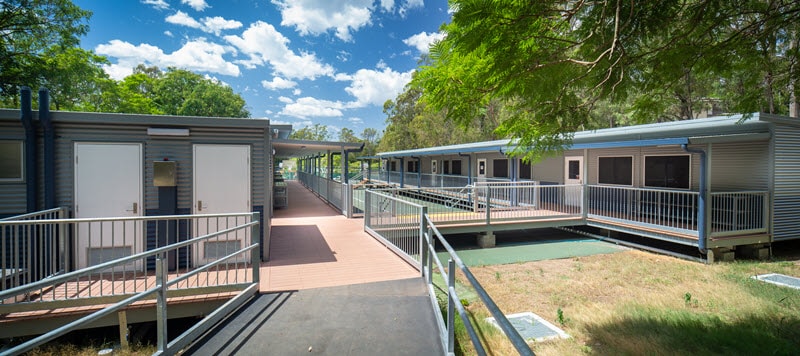 Solution
Fleetwood's role was to deliver a full turnkey solution, which specifically included the design and construct solution of 9 General Learning Areas (GLA's), a toilet block along with several connecting decking's, ramps and stairs for easy access.
With the campus located in a high-risk flood zone along with minimal space to work with. The decision was made to install the temporary facilities onto the school's tennis courts onto pre-cast concrete blocks on timber stumps, which was done to preserve the tennis courts for future use. All modules were delivered and installed over a weekend and saw the buildings handed over ready for students within 3 weeks from site possession.
Benefits
With an extremely tricky site to work with, the advantages of delivering a modular solution are eminent as shown with the ability to deliver an entire structure over just a few days and have it operational in a fraction of the time of a traditional build. With the main campus under development to accommodate students from all year groups in the future, the current decanting facilities have been able to accommodate all year 11 and 12 students, which currently comprises of the entire school.
Queensland Academy for Science, Mathematics & Technology Gallery