Modular Construction and Building Solutions – Exploring the Possibilities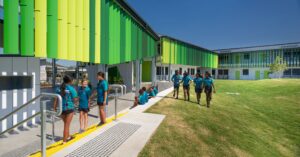 If you are looking for ways to reduce costs, speed up construction times, and take advantage of sustainable building practices, then Fleetwood Australia's modular building solutions are worth exploring. In this blog post, we'll take a look at what modular construction is, how it works, and the benefits that come with taking an innovative approach to building.
What Is Modular Construction?
Modular construction is a process where components of a building are pre-fabricated off-site in a controlled environment using automated production methods. The components are then shipped to the site and assembled on foundation slabs or other foundations. This type of construction is becoming increasingly popular due to its many advantages over traditional forms of construction.
How It Works
Modular buildings are constructed in sections—or modules—in a factory setting before being shipped to their final destination. The entire process takes place under strict safety regulations and quality standards, as well as environmental guidelines regarding emissions and waste management. Once the modules arrive at the site, they are pieced together like puzzle pieces until they form a complete structure. This type of construction allows for quick assembly times while still maintaining high-quality results.
The Benefits
Modular construction offers many potential benefits over traditional methods such as faster build times (because parts are built off-site), greater cost savings (due to reduced labor costs), increased safety (due to better quality control measures), greater sustainability (due to fewer materials wasted and less impact on the environment), improved design flexibility (since modules can be customized for different applications), and enhanced scalability (as additional modules can be added). Additionally, modular buildings require less maintenance than traditional structures due to their durable materials and rigorous quality standards during manufacturing.
Fleetwood is the leader of modular construction in Australia
We are Australia's largest owned and operated, vertically integrated, offsite manufacturer and modular building solutions company. A wholly-owned subsidiary of Fleetwood Limited, we have been listed on the Australian Stock Exchange since 1987.
We provide end-to-end service delivery of modular solutions. Our service offerings include design, offsite manufacture, civil site works, transportation and logistics, installation, relocation, refurbishment, decommissioning, maintenance, operations and storage.
Our expertise has been developed over more than 55 years and we have become the market leader, known for innovation, quality, reliability and a focus on developing solutions in the modular construction industry. We work collaboratively with private and public sector clients to develop customised building solutions, designed by in-house teams. With more manufacturing facilities and capacity all over Australia, we provide greater certainty and faster, smarter and greener solutions for our clients. We lead the way in creating innovative spaces for people to thrive, proudly delivering safe and healthy built environments for people and planet!
Fleetwood's modular construction provides architects, designers, engineers, developers, contractors, and builders with an effective solution that can help them minimize costs, speed up completion times while maintaining high-quality results all while being environmentally conscious at the same time. With its many advantages over traditional forms of construction, this innovative building method has quickly become a go-to choice for those looking for efficient solutions in manufacturing homes or commercial buildings that meet all their needs without breaking the bank. So if you're in need of an efficient way to get your project done right on time and budget – consider Fleetwood as your solution!