Jimmy's Youth Wellbeing Sanctuary: A holistic haven for disadvantaged youth
In 2021, the Mornington Peninsula saw the doors of 'Jimmy's Youth Wellbeing Sanctuary' open to the young people of the region.
The vision was to create a purpose-built, multi-functional wellbeing space where young people can meet with mentors and one another to foster growth and healing in the face of difficulty. Fleetwood is immensely proud to have delivered the full turn-key construction solution for this state-of-the-art wellbeing centre.
Behind the new centre is local charity Jimmy's Foundation. Recognising that the YMCA Peninsula Youth Services (YPYS) was without a permanent meeting place, Jimmy's Foundation joined forces with the YPYS to create one. Their goal was to establish a permanent home for the organisation, as well as a place for young people to be, learn, connect and even stay during youth camps and wellbeing retreats.
CO-OP Studios delivered the design, and Fleetwood Australia provided the construction solution to help bring this important community project to reality.
Such a multi-purpose facility required a broad variety of spaces, including meeting rooms for consultations, yoga rooms, a kitchen facility, social enterprise café, bedrooms with amenities, an entry deck to a serene central courtyard, along with a multi-purpose room and gallery hangout space for young people to utilise during their stay.
To create these spaces, the bespoke double-story modular design required the installation of 16 modules (544 square metres) over the course of two days.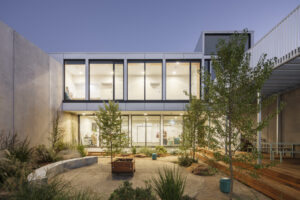 Fleetwood was also responsible for the initial site set-up, demolition of the existing office building and entry veranda, and removal of asbestos prior to the new building's delivery.
In addition to the delivery and installation of the new modular building, Fleetwood completed landscaping and further site works including the main design feature: the beautiful external timber screen façade at the entrance to the facility.
Jimmy's Wellbeing Sanctuary will help to connect young people to contemporary, holistic wellbeing practices such as yoga, naturopathy and acupuncture, in addition to qualified youth workers and volunteers. It will also present the opportunity for skill-based learning in areas such as barista training, photography and journalism. All of these services arise from the core aim of providing a safe, welcoming haven away from the pressures young people may face at home, school and more generally speaking, the difficulties of growing up.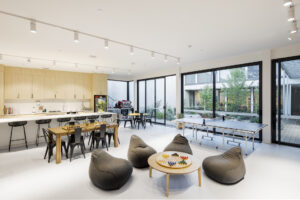 Fleetwood Australia is delighted to have been involved in the creation of this wonderful facility. We look forward to seeing Jimmy's Wellbeing Sanctuary encourage, inspire and support the young people of the Mornington Peninsula in this purpose-built space.
To see some of our other projects at Fleetwood Australia, view our projects here.