Fleetwood Wins Global Modular Building Award
Right on the heels of last year's triple win, Fleetwood Building Solutions have secured another Award of Distinction at the 2021 Modular Building Institute (MBI) Awards for the permanent modular Paramatta Eels community ruby league training facilities project!
The MBI Awards of Distinction is one of the modular industry's premier awards programs, with entries judged on architectural excellence, technical innovation & sustainability, cost-effectiveness, energy efficiency, and calendar days to complete.
The award-winning modular masterpiece is located in Kellyville, within the western suburbs of New South Wales.  The project is Stage 1 of the Club's Kellyville-based community rugby league facility that supports reserve grade, Jersey Flegg and academy teams.
Surrounded by elite training fields, the new facilities include designated change rooms, ice baths, physiotherapy and doctor rooms, theatre-style video/meeting rooms, gym and recreational spaces. It was cleverly designed to act as a one-stop shop for the club's entire facilities (including gymnasium, administration areas, indoor and outdoor training facilities), delivering an architectural statement, while integrating practical modular elements.
Our dedicated NSW Fleetwood team (also known as MBS) worked closely with the rugby league club in a collaborative process, exploring the limits of modular design to deliver outstanding benefits and utility for players and staff.  Creating elegant structural and spatial solutions for modern athletes and open administration facilities allows the venue to adapt to the changing future needs of the club.
Constructed off-site in 20 weeks (2,100 sqm), the modules were then separately transported to site and installed. The new structures smoothly integrated with indoor spaces and flexible areas, to enable all patrons to enjoy the facilities.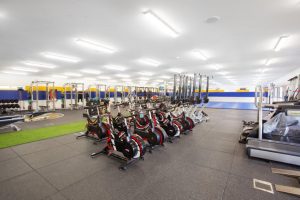 Jason Kunkler, Chief Operating Officer of Fleetwood Building Solutions, accepted the award at this year's virtual 38th Annual World of Modular Convention & Tradeshow, an international event for modular construction professionals worldwide to network, exchange ideas, learn from experts, discuss issues, promote new products, and receive well-deserved awards and industry recognition.
"Thank you on behalf of Fleetwood, to the Modular Building Insititute. Not only for recognising Fleetwood with this award, but also for the work they do in education, research, development and innovation across the entire modular construction industry."
View other recent awards