Fleetwood Recognises Veteran's Achievements | Commemorating ANZAC Day 2022
Fleetwood Australia has recently signed the Veterans Employment Commitment. As a proud Australian owned company that has operated in Australia for more than 55 years, Fleetwood is pleased to recognise the community service veterans have provided, as well as the ongoing contribution veterans make to workplaces and our country more broadly, using their skills, knowledge and experience.
Fleetwood aims to become a veteran-friendly employer that harnesses the skills of ex-service personnel and supports their contribution to the community outside of the Defence Forces.
This ANZAC Day, let's take a moment to recognise the achievements and contributions of a veteran within our Fleetwood family – Lindsay Pritchard, HSEQ Advisor Regional Victoria.
Prior to joining Fleetwood, Lindsay served for 19 years in the Australian Army Reserve. "I chose to serve as I was seeking a new experience, to be challenged and a sense of adventure. Also, a mate was in the military and it seemed like the thing to do at the time." His Reserve units included Pay Corps, Infantry and Artillery, in a range of roles including driver, infantry soldier, gunner, Acting Gun Sergeant and Transport Supervisor. He also served a 9-month full time stint in the Regular Army.
To Lindsay, military service provided a sense of pride, "a sense of doing something for the country. I feel humbled to have been able to serve." Since leaving active service, Lindsay continues to stay in touch with the ex-defence comrades as secretary of the Clunes RSL club. He is also very active in his local community, enjoying lawn bowls in the summer months, coaching under 12's football and is the team manager in a local football league.
Lindsay joined Fleetwood in July last year (2021), and attributes much of his professional success to the experience and skills gained during his army years. Such skills include the "ability to work with different people, leadership, teamwork, adaptability, personal discipline, open mindedness and training / mentoring skills."
Lindsay got his start in Health and Safety after a previous workplace fatality. When the regulator came on board to make changes, he went back to study part time and implement positive change. "HSEQ runs parallel to a lot of soldier stuff. The emphasis is on self-preservation; the way we think about safety is quite similar."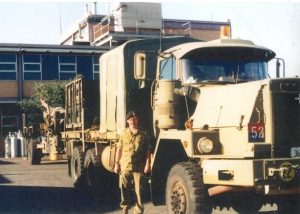 "What attracted me to Fleetwood was their strong values. Make it safe, make it personal, make it home. They actually care about their people and I work with really good people every day."
Lindsay's biggest piece of advice for veterans seeking employment is not to discredit their strong transferable skills. "Make sure to emphasise your skills from the defence force. Don't just think they're for nothing, those are all skills that you can bring to the workforce. You have a lot of formal leadership training and simple things like punctuality and the way they carry themselves. They know how to get on with the job, put personal things to one side and to work with people from all walks of life. There are a lot of hidden skills defence people have."
This ANZAC Day, we thank our veteran community and encourage you to reflect and give back to those who have served us. Lest we forget.